Man vs. Booze: The war of the flavored Vodkas
---

July 17, 2012
Posted By: Broc Smith and David Daly

https://www.facebook.com/ManVsBooze

Man vs. Booze: 3 Olives S'Mores vs. Van Gogh PB&J
I'll freely admit that I'm a vodka purist. I like vodka flavored vodka. I don't believe there are any artificial or macerated flavors that can match the quality of the best vodkas. A great flavored vodka cocktail should be made using fresh ingredients. However, it's not always convenient, or even possible, to keep some fresh fruits on hand.
Absolut started the mainstream trend in the mid to late 1980's with the introduction of Citron, Mandrin & Kurant flavors. More flavors were introduced to the U.S. market as places like Applebee's started adding "exotic" drinks to increase sales in the 1990's. Just when I thought we'd seen every flavor imagineable, Pinnacle created their Whipped vodka. Whipped cream flavored vodka opened a whole new door in the vodka category. Producers are now scurrying to develop all kinds of sweet vodkas that appeal to young adults, thus we have Van Gogh PB&J and 3 Olives S'Mores.
3 Olives S'Mores
The nose of cinnamon graham crackers is immediately obvious. The palate accurately captures the chocolate, marshmallow and graham cracker deliciousness that made the original incarnation a campfire staple. 3 Olives recommends the S'Mores Campfire Martini.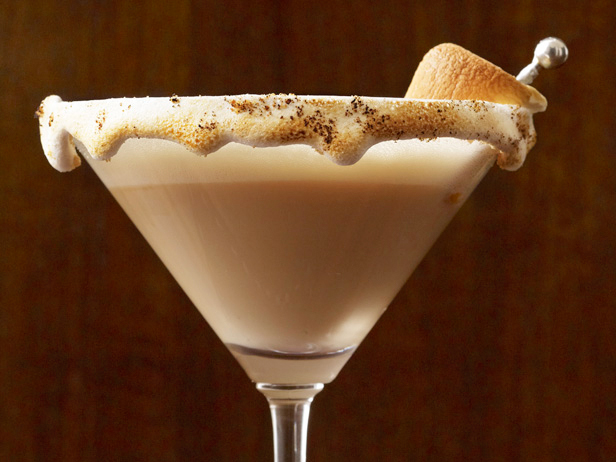 Campfire Martini
•

3 parts Three Olives S'mores Vodka
•

Crushed graham crackers, chocolate syrup, marshmallows
•

Dip the rim of martini glass in chocolate syrup and coat with crushed graham crackers.
•

Pour Three Olives S'mores into martini shaker filled with ice.
•

Shake and strain into martini glass.
•

Garnish with a skewer of three marshmallows and light!
Van Gogh PB&J
Van Gogh's take on the childhood classic Peanut Butter & Jelly has elements of peanut and raspberry. They didn't go too sweet on the jelly side, but the flavors don't exactly mingle well together. With this attempt, I'd say Van Gogh left the crust on. Here is a couple of things to try.
The King
1 ½ oz. Van Gogh PB&J
½ oz. Banana Liqueur
Serve on the rocks
Nuts & Berries
1 oz. Van Gogh PB&J
½ oz. Chambord
½ oz. Milk or Cream
Shake well with ice and strain into a shot glass, garnish with cinnamon
Broc Smith is the owner/operator of Sarasota
Liquor Locker
and has extensive knowledge and experience in the spririts industry. Checkout Liquor Locker's
ONLINE STORE
for the best prices in wine around. David is the founder of SarasotaDay.com and likes to drink. We are out to explore and experience the world's finest distilled spirits, then to educate and excite the public. For more drunken ideas, outings, recipies and more visit
https://www.facebook.com/ManVsBooze