Del Funk 2013
Friday April 19, 2013
Flight Source International
1244 Clyde Jones Rd Sarasota, FL 34243 -
(941) 355-9585
TICKETS AVAILABLE AT THE DOOR
$43.00/21+ INCLUDES ALL YOU CAN DRINK SPIRITS AND BEER
$28.00/Under 21 INCLUDES ALL YOU CAN DRINK SOFT DRINKS
DEL FUNK 2013
With special guests, KINETIC 9 & SHOGUN ASSASSIN (WU-TANG), BIG BLU HOUSE, S.N.A.P.M., SYMPL (Projeck Lotus), PROSSESS, BOBBY FRANKLYN, P.S. (New Mexico)
Man, every once in a hot minute do we get a show as cool as this come to town. I remember listening to Del when I was in high school, i'd sit in art class with my headphones in just lose track of time vibing to this man's lyrical genious. If you haven't heard of Del the let me introduce you... Maybe this song called "Clint Eastwood" featuring Del will ring a bell... I garauntee you've heard it on the radio.
Ahhh, that's right... He was the Ghost Rapper in his collaboration with virtual trip-hop group
Gorillaz
for two songs on their debut album, "
Clint Eastwood
" and "
Rock the House
", both of which became singles and videos and achieved chart success. For the purposes of the music videos and the Gorillaz storyline canon, Del performed under the identity of "Del the Ghost Rapper", who was said to be a spirit that was hiding from death within the band's drummer,
Russel Hobbs
. Del later commented in an interview on the success of "Clint Eastwood" by saying that he actually wrote the song with the book How to Write a Hit Song, a book that he bought with a coupon his mother gave him. After the song went platinum he gave the plaque to his mother. As part of Russel Hobbs' back-story, the character of Del was one of Russel's friends that was gunned down in a drive-by shooting, whose ghost possessed Russel.
In real life, Del is also cousin of seminal west coast rapper Ice Cube, Del began his career writing lyrics for Ice Cube's band, Da Lench Mob. In 1991, with the help of Ice Cube, Del released his first solo album, "I Wish My Brother George Was Here", at the age of 18. The album was a commercial success largely due to the popularity of the hit single, "Mistadobalina." Ultimately Del, who was not pleased with the limited musical range of the album, severed his production-artist relationship with Ice Cube for his next album, "No Need for Alarm".
No Need for Alarm also saw the introduction of the Oakland clique Hieroglyphics, whose original members included Souls of Mischief (Opio, A-Plus, Phesto and Tajai) Casual, Pep Love, Del, and producer Domino. No Need for Alarm helped to expose both the regional Oakland sound of hip hop, as well as the freestyle based, "golden era-97" style of hip hop being expanded at the time.
Del has released over 14 studio albums under the monikers Del the Funky Homospaien and Deltron 3030 and with his group Hieroglyphics.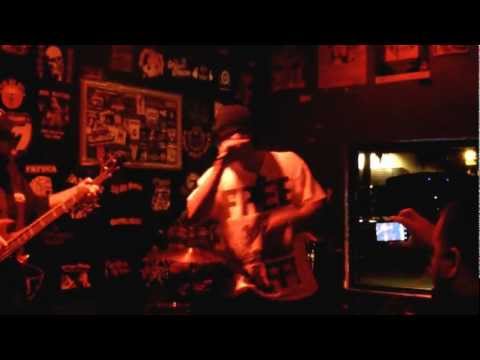 Also, on the bill are local hip hop favorites Big Blu House. Known locally as one of the few live Hip Hop bands, they mix a sound of intelligent lyrics over big beats, funky bass and delayed out Rhodes Piano and Wurlitzer. Self described as "Modern Hip Hop with Old School Sensibility", they have played with Hip Hop icons such as Nappy Roots and Bubba Sparx are currently supporting thier sophtmore release titled "Todos Diez".